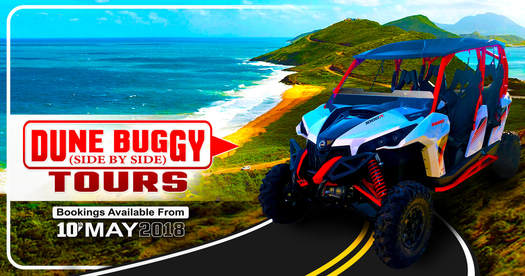 Introducing our 4 seater Dune Buggies, perfect for a family of 4 to explore St.Kitts in a fun and adventurous way. Our dune buggies are 1000cc all wheel drive, perfect for an on and off-road exploration. Drive through the dense tropical rain forest and through our quaint and charming towns - all the while riding in comfort in the Can-Am Mavrick Max. Dune Buggy/ATV combo tours available from May 10th 2018.
Our tour duration is 3hrs.
liquid Refreshments are provided
Tour starts at 9:00am and 1:00pm
Pick up time 8:30am and 12:30pm
To make reservations, please email or call for pricing and availability.
---
FREE TRANSPORTATION BETWEEN BASSETERRE AND FRIGATE BAY
FREE TRANSPORT FROM THE CRUISE SHIP PORT TO OUR OFFICE (4 MINUTES)
WE ARE USUALLY AT THE PORT FROM 8:15AM UNTIL 1:30PM




---

​STREET LEGAL, fully automatic 400cc ATV

Explore the beauty of St.Kitts on our ATVs. Sunny Blue offers you the option to explore the island on your own or through a guided tour. You can experience your adventure through the mountains or while travelling along the sandy beaches.

Guided tours must have a minimum of 2 ATVs.

Each driver must obtain a temporary driver's permit to travel on the island's main road - mandatory by St. Kitts Law. We issue temporary driver's permit at our facility for your convenience. Permit price $25.00USD per driver. Must be 18 years or older with a valid driver's license and some sort of experience.
ATV RENTALS

​*400cc Automatic ATVs
*ATVs are legal to drive on the street
​*Helmets provided
* Storage compartment
*Can seat 2 passengers comfortably
* Max weight 380lbs
* Pick up/dop off : Port and Hotel (within 5 mile radius)
​* Security damage deposit is required ($500.00USD)
Visa/master card
*CALL OR EMAIL FOR PRICING.

ATV GUIDED TOUR
* Guided Mountain Tour
* Minimum of 2 ATVs for tour
* Helmets provided
* Complementary liquid refreshments
* Tour duration: 2Hrs
* Gas Included!!!
​* Call or email for pricing..


ROAD TOUR AVAILABLE
* Mixture of on and off road
* Minimum of 2 ATVs for tour
* Helmets provided
* Tour duration: 3hrs
* Complementary liquid refreshments
* Gas included!!!
* CALL OR EMAIL FOR PRICING.


WELCOME TO OUR TROPICAL PARADISE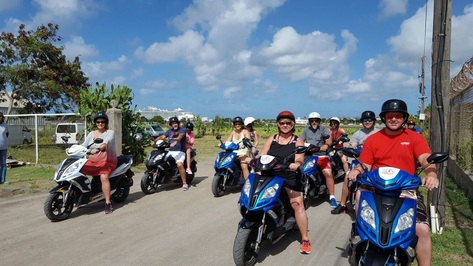 ATV and SCOOTER RENTAL!!! Explore St. Kitts on one of our very reliable scooter or ATV. 68 sq miles of an intoxicating paradise to unfold. With 10+ years experience we have been the leading scooter and ATV rental in St. Kitts. The ATVs scooters are affordable, fuel efficient, and are automatic which make for an easy ride. Our staff will give assistance to ensure your safety. We welcome your business and hope you have the time of your life in St. Kitts



---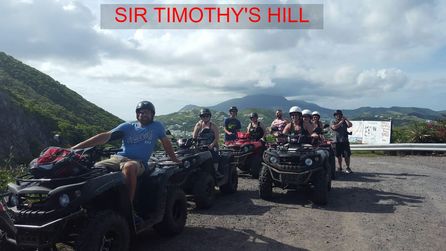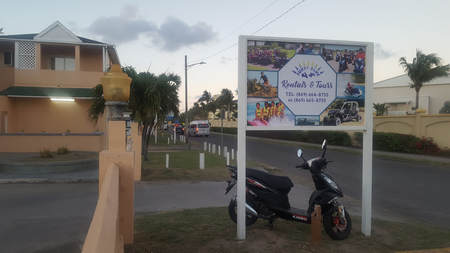 ​NEW OUTLET!!!
LOCATED IN FRIGATE BAY
4mins Walking distance from the Marriott, Royal St.Kitts and Sugar Bay Club.
---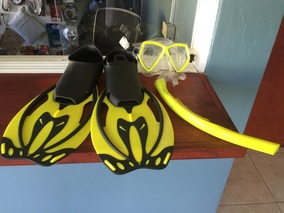 ONLY $5.00 USD PER DAY TO RENT

Explore the beauties of the Caribbean Sea. Enjoy the warm blue waters and the beautiful golden sands. Visit places like Ship Wreck and White House Bay, located at the South East Peninsula.
Grab your snorkel gear from us. Only $5.00USD per day to rent.
---


REQUIREMENTS:
VALID DRIVER'S LICENSE
Visa/master card for deposit
MUST HAVE SCOOTER EXPERIENCE!!
MAX WEIGHT PER SCOOTER IS 350LBS
MAX WEIGHT PER ATV IS 380LBS
PLEASE CALL FOR MORE DETAILS: 869-664-8755 or 869-665-8755